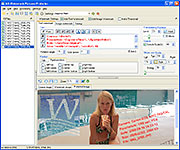 I am looking at your WPP app and it watermarks perfectly.
Stephen Tapp


Version 3.7.0
Several interface improvements: removed unused elements and settings
Changed shortcut for stoping group protection, now press 'Esc'
Improved 'Full screen view' mode and changed shortcut, now press 'F11' (as in web browsers IE and FireFox)
Improved HTML Gallery generation (Ctrl+H)
Version 3.6.3
Improved EXIF processing
Add standard size of thumbnails
Fixed GIF images protection error
Version 3.6.2
Improved protection of group of images
Version 3.6.1
Added Emboss watermark style
Interface improved.
Several bugs fixed.
Version 3.5
Added user defined macros (CTRL+U).
Improved rotation of multiline watermark text.
Improved several images protection.
Added sending several protected images by e-mail (CTRL+M).
Added align by width for watermark text.
Added menu Edit.
Several minor interface error fixed.
Version 3.4.4
Corrected saving EXIF and IPTC info and saving date and time of original image.
Added "Settings/Batch Works in IDLE Time".
Added Sending protected image by E-Mail.
Version 3.4.3
Several minor changes.
Version 3.4.2
Added menu Settings/Use Non TrueType Fonts.
Computing of stretch of watermark take into consideration border size.
Version 3.4.1
Added drawing of border.
Saving of last used settings.
Several minor changes.
Version 3.4
Added saving EXIF and IPTC in protected images
Added mask for adding watermark (useful for emulation semi-transparency on black-white images)
Added background color for text watermark.
Added selection of transparent color for watermark.
Improved tile and fixed position filling for rotated text watermark
Improved processing of black-white and gray TIFF images.
Added saving dpi of original images.
Added saving/loading list of images.
Several minor changes.
Version 3.3
Added background color of watermark.
Improved TIFF processing.
Several minor changes.
Version 3.2
Added making HTML gallery.
Version 3.1
Added new macros %fdate%, %ftime% and other which return date or time of original file image.
Added support TIFF images.
Several bugs fixed.
Minor other changes.
Version 3.0.1
Minor changes in the JPEG options.
Version 3.0
New user interface
More speedy protection
Adding both text and image watermark
Making thumbnails
Version 2.4
Support of mouse wheel for scrolling images and setup of settings values have been added.
"JPEG error #36" during saving big JPEG images has been fixed.
Version 2.3
Compression quality for saving JPEG images has been added.
Several changes in protected group of images have been made.
Loading watermark settings has been speeded up.
Version 2.2
Multiline text watermark has been added.
Some minor changes have been made.
Version 2.1
Using your own image as watermark has been added.
Border and spaces settings have been added.
Some bugs have been fixed.
Version 2.0
It has been added:
Protection of group of pictures.
Color transparent watermark.
Saving/deleting watermark settings.
New user's interface.
Version 1.2
It has been added:
Changing name.
Support for reading more graphic formats.
Support for writing protected images in PNG, EMF, TGA formats.
Scrolling for large images.
Version 1.1
Error during saving GIF-files has been fixed.
Color selection in Font dialog has been added.
Some minor changes have been made.
Version 1.0 (November 2000)
First version of the program with name "AiS Banner Blocker".
See also
Download AiS Watermark Pictures Protector
Example of usage AiS Watermark Pictures Protector
Order AiS Watermark Pictures Protector