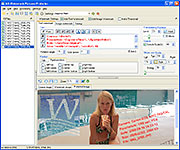 I am looking at your WPP app and it watermarks perfectly.
Stephen Tapp


This professional watermark software helps you protect images. You can add a color transparent visible watermark to your digital images and photos. The watermark can be your copyright or the URL of your site or your logo. Of course, you can do this job in your favorite image editor, but AiS Watermark Pictures Protector does it quicker and simpler.
AiS Watermark Pictures Protector reads your digital image from the file (BMP, GIF, Animated GIF, JPEG, PNG, WMF, EMF and other - more than 40 formats), adds to the image a transparent color watermark and saves the resulting image as a new file of the same or a different format. You can also make thumbnails of protected images before watermarking.
The watermarking software is useful for professional computer painters, designers and freelancers who send their works to a customer review through the Internet. If you have a web site with a lot of images this program will help preserve your copyright for the pictures. You can use AiS WPP for protecting images and photos and creating HTML image galleries.
Main features of AiS Watermark Pictures Protector
Adding customizable visible watermarks on your pictures or digital photos.
Using macros in the watermark text: Date/Time, Image Width/Height/Size, EXIF and IPTC fields, custom user macros
Transparency emulation for black and white image
Emboss watermark
Watermarking a group of pictures (batch watermarking)
Works from command line
Additional features
Wide customizing the watermarks properties: text, image, color, background color, position, size, stretch, transparency, border
Saving and deleting the watermark settings
Making thumbnail images
Creating HTML galleries with right mouse click protection for prevention saving images.
Sending protected images by email
AiS Watermark Pictures Protector is accessible as a standalone program for Windows 95/98/ME/NT/2000/XP/2003/Vista/Windows 7. Also it is available as an ActiveX component for including watermarking functionality in your software written in VB, Delphi, C++ or to your web server by using ASP).
Please download and try free evaluation version (1.6 Mb)