AWinware PDF Watermark allows you protect or sign your PDF documents by watermarks. Using this tool you can add company text, logo or copyright message on all pages of existing PDF. You can setup the various options like single-line verbiage, multiple-line verbiage, watermark text font, size, color, angle rotation and output PDF location.
AWinware PDF Watermark allows to choose a single PDF document or can import multiple PDF documents from a specific directory to apply watermark. AWinware PDF Watermark software is advanced and reliable tool which can work in batch mode.
Main features of AWinware PDF Watermark
You can customize watermark options to set text size, color and angle.
Apply bulk watermark PDF documents processing.
Tool is easy to use and quick.
Srceenshot of AWinware PDF Watermark - software for PDF watermarking
Main windows - setup PDF watermarks: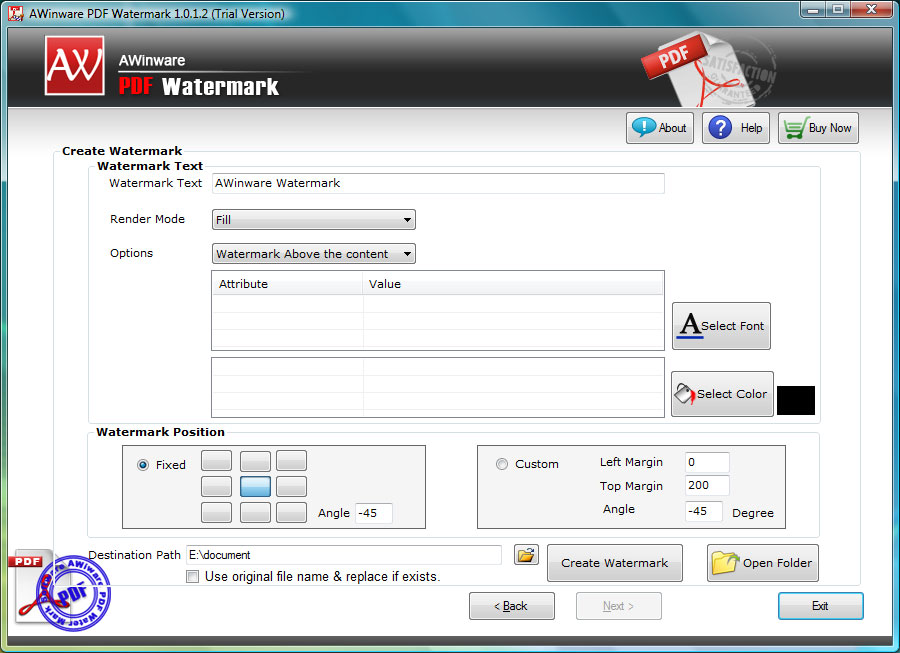 Operating system support – the program runs under Windows 2000, 2003, XP, Vista, Windows 7